Limited financial resources is one of the biggest reasons Kansas City students are unable to attend college. Kansas City Security Association's Education Fund is making it possible for 12 Kansas City youth to attend college this fall, two of which are HALO youth. Oscar and Tiana were chosen out of 48 applicants to each receive $18,000 scholarships for college. Both students worked hard to receive the scholarship by applying, submitting their high school transcript and maintaining a 2.0+ GPA, and writing an essay about their future plans if they were to receive the scholarship.
Oscar's journey with HALO started in fall of 2012 when he and other reStart  youth attended the HALO Learning Center for workshops. Almost two years later, his favorite workshop is the Wednesday night Art Therapy-base workshop, and he has even been featured in HALO's latest mission video . Oscar is currently attending Metropolitan Community College, working on his general education courses, and hopes to attend Pittsburgh State University in Kansas this fall. He has given back so much to HALO through his hard work and smile and hopes to do even more by volunteering with HALO in the future, possibly as an international ambassador.
Tiana was introduced to HALO this year through our partner, Big Brothers Big Sisters . She is graduating high school this month and will attend Metropolitan Community College in the fall. She plans to study Foreign Language Education and is looking forward to the new chapter of college in her life.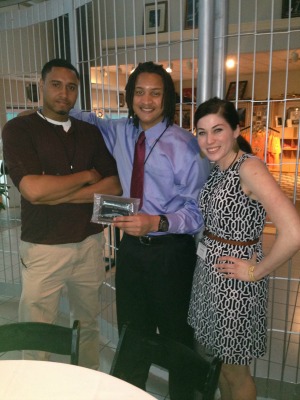 Oscar and Tiana, along with the 10 other recipients were invited to an awards banquet at the Negro League Baseball Museum. The students were able to bring up to two guests; Tiana brought a family member and Oscar brought Aubony Chalfant, HALO Center Facilitator, and a former youth care worker at reStart. The students and their guests were treated to dinner, heard from influential guest speakers, and each student had their name, affiliated organization, and where they plan to attend college announced as they walked up on stage to receive a beautiful plaque with their names engraved. The evening was inspirational for all and proper recognition for the student recipients and their hard work.
We are sad Oscar and Tiana will no longer be in the Learning Center with us, but we are so excited for them to start this new chapter. We let them both know HALO is still there for them as a support system and family, and we would like to touch base once a month to hear about their progress in school. They were excited to know HALO would still be an active part of their lives.